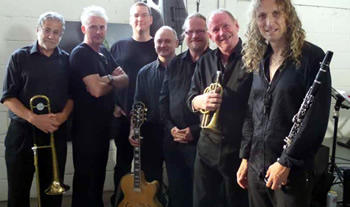 In 2022 Digby (now celebrating over fifty years in professional jazz) continues to lead his poll winning band. "The very first Half Dozen" he says "-was formed in 1971 with some local pals in Essex including clarinettist Alwyn 'Ollie' Dow who thought up the name. Unusually at the time we played Swing arrangements and some Dixieland – and even some jazz-rock for a surprise! – and we had a great night at the 100 Club in 1971 supporting Alex Welsh who became a great friend and mentor". The band broke up a year later but was re-formed in 1995 with fellow founder member clarinettist-saxophonist Julian Marc Stringle and a whole new team of professional players including bassist Len Skeat, drummer Bobby Worth, pianist Craig Milverton and trombonist Malcolm Earle Smith. "This time" says Fairweather " – I wanted a band that could play Swing and Dixieland properly but also other styles if we felt like a change! I also wanted a group that could sing close-harmony – one of my favourite things!". With the addition of guitarist Dominic Ashworth (who joined in 1998) the band celebrated their 20th Anniversary tour in 2015 by playing nine jazz festivals (including Bude and Brecon); more than thirty theatres plus a record- breaking number of jazz clubs! And in 2019 the Half Dozen have won the 'Top Small Group' category of the British Jazz Awards (the 'Jazz Oscars') for the twelfth time! "I agree it's amazing" says Digby " –but although there are so many great young players around I think it's probably because over the years we've managed to achieve some sort of recognisable identity as a band with the same all-star line-up and hopefully a sound of its own too"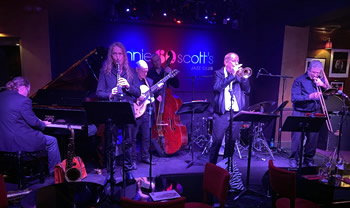 Of the Half-Dozen's first album (Twelve Feet off the Ground) back in 1998, Dave Gelly (in 'The Observer') said: "There cannot be another band with quite this range – from Dixieland via hard-bop to R'n'B – and as if this weren't enough they turn into a close-harmony vocal group at unexpected moments. Amazingly accomplished!" From 2003 to June 2007 the Half Dozen turned into one of British jazz's most talked-about acts while they toured and recorded with blues-legend GEORGE MELLY playing concerts and festivals all over the UK as a single act; co-starring with Humphrey Lyttelton, Acker Bilk and Kenny Ball for Jack Higgins' 'Kings of Jazz' packages, and completing four of George's legendary Christmas seasons at Ronnie Scott's.Their first CD with George, 'Singing and Swinging the Blues!' was again voted the Observer's 'Record of the Week' in August 2003 and three years later their release 'The Ultimate Melly' on Alan Bates' Candid Label, saw Digby, George and the band join forces with stars including Sir Van Morrison, Jacqui Dankworth, and the Swingle Singers for what George would call: 'my favourite album of all'. In March 2007 they recorded what would be his last album; 'Farewell Blues' for Paul Adams' Lake Records.
After Melly's death in July 2007 Digby and his Half Dozen began a new partnership with blues rock legend PAUL JONES – star of the Manfreds and his own Blues Band – for their show 'Rocking in Rhythm' which has toured the UK (and beyond) whenever Paul is available. "Paul's a great singer" says Digby " – and a magnificent jazz harmonica player, as well as a great friend. But he is busy with his other musical obligations. So we just get together whenever we can". Over the years however Digby's Half Dozen has devised and perfected a solo act which is all its own, and to which Paul Jones himself has offered his stamp of approval! "People often talk about sports teams having strength in depth' he says " – and that's one of the many things I would praise about the Half Dozen". Thanks Paul!
So the Half Dozen now appears at jazz festivals clubs and concerts presenting their very own show. The group's aim is simple; to play good music, and entertain their audience! They have dates available now and would welcome your enquiries.
In 2022 Digby Fairweather's all-star Half Dozen features Julian Marc Stringle (reeds/vocals) Chris Gower (trombone) Craig Milverton (keyboards/vocals) Dominic Ashworth (guitars/vocals) Al Swainger (bass) Neil Bullock (drums).
To book the band, please contact:
Digby Fairweather Productions
Landline: (0044) 1702 435727
Email: gwendolinesweetingham@gmail.com
Mobile: 07957 423821 / 07938 227925